Will the Smell Ever Leave My Middletown House After Fire Damage?
6/16/2020 (Permalink)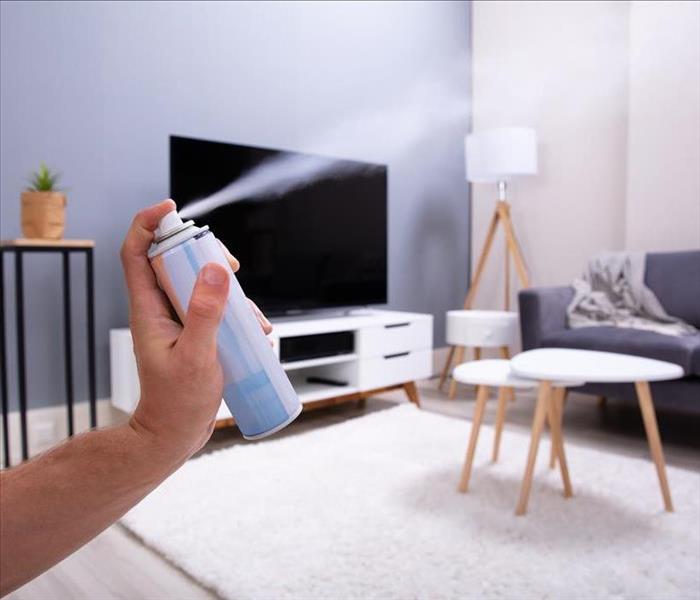 After your home suffers fire damage, you need a team of professionals to assist you with cleanup and odor removal. Call SERVPRO right away!
Trained and Experienced Technicians from SERVPRO Succeed in Removing Fire Damage and Malodors from Middletown Residences Employing a Wide Range of Strategies.
Fire damage restoration tasks frequently require multiple steps, perhaps none so much as eliminating the unpleasant odors that follow the heating and burning of structural components, food, grease, and other contents of your Middletown home. If the fire loss team you hire does focus with skill and commitment on professional deodorization, it is unlikely that your home can return to preloss condition. No matter how completely charring and fire residues are removed, any lingering smell of smoke and damaged materials can permanently alter your sense of comfort and security in what should be your happy home.
Are Air Fresheners an Option to Eliminate Odors?
A plethora of sprays, blocks, wicking liquids, gels, and other consumer options are on the market, promising to take care of the malodors that go hand in hand with the fire damage inside a Middletown residence. You might get fleeting success with these approaches, but the smell can recur, especially as humidity and temperatures fluctuate. Masking agents distract the occupants of a fire-damaged property by covering up the unwanted odors. Still, they usually have intense and perhaps unpalatable aromas of their own that can become ineffective or irritating in their own right.
How Do Professionals Work Toward the Goal of Eradicating Smoke Odors?
The SERVPRO deodorization experts who take on the task of eliminating odor realize everyone's perception of odors is different. Because of this, we must check in with our customers periodically during the odor mitigation and remediation process to monitor how well our efforts are working. We make adaptations on a project by project basis after checking the boxes on the following four procedure protocol:
Can we remove the source of the odor?
Since our technicians are already on the lookout for charred and soot-coated debris, this step is already in full swing during other phases of fire damage recovery. This strategy can become a bit of a detection exercise as we seek hidden or bits of debris. Before structural damage is repaired, it is wise to scan between walls and in other accessible building cavities for foul-smelling waste, including pieces of insulation or soot-covered chunks of broken drywall or plaster, and the like.
Can we clean surfaces that had contact with the source of the odor?
Comprehensive cleaning of soot-covered surfaces constitutes a significant phase of most fire damage remediation. We carefully consider the structure's permeable surfaces, including woodwork and otherwise undamaged wall or ceiling materials, to determine if the minute odor-bearing particles of soot made their way into the pores of the structures and fixtures. Odors trapped within these components might "disappear" on the surface only to vaporize persistently later when temperature and humidity levels are conducive.
Can we recreate the conditions that created the odors?
Because the smoke odors reside within tiny soot particles, deodorization science suggests that attempts to step back to the conditions that created the particles or other chemical change interventions might help. Options along these lines include:
Thermal fogging, where deodorizing chemicals combust in a heated chamber, then disperse and pair with the odor-bearing particles and neutralize them
Hydroxyl generation, where hydroxyls created by UV light change the soot particles at a molecular level, rendering them odorless
Oxidation, using an ozone machine
Can we seal the odors inside permeable materials?
If application of the above options does not resolve the malodors, using paint or other surface preparations might seal the odoriferous substances inside the affected materials. In the case of penetration of odor-bearing particles into inaccessible structures such as building cavities or the rafters of your home, the targeted or broadcast spraying of a sealing agent could help eliminate the vaporization of the smell.
What If the Smell Is in the HVAC System?
We have crews that can deep-clean the ductwork of your heating and cooling system, limiting the continuing circulation of the odors throughout your home. Changing filters is another option. Persistent smells within the HVAC ducts can be managed by a sealing procedure as well, particularly if areas within the duct configuration are difficult to clean thoroughly.
SERVPRO of North Orange County and South Orange County uses research-based protocols to eliminate the stench of household fire from your residence as part of a complete damage recovery project. Call us at (845) 342-3333 as soon as officials allow entry so we can assess and plan to make it "Like it never even happened," down to the elusive presence of malodors.