Professional Water Cleanup Services for a Newburgh Gym or Agency?
9/20/2021 (Permalink)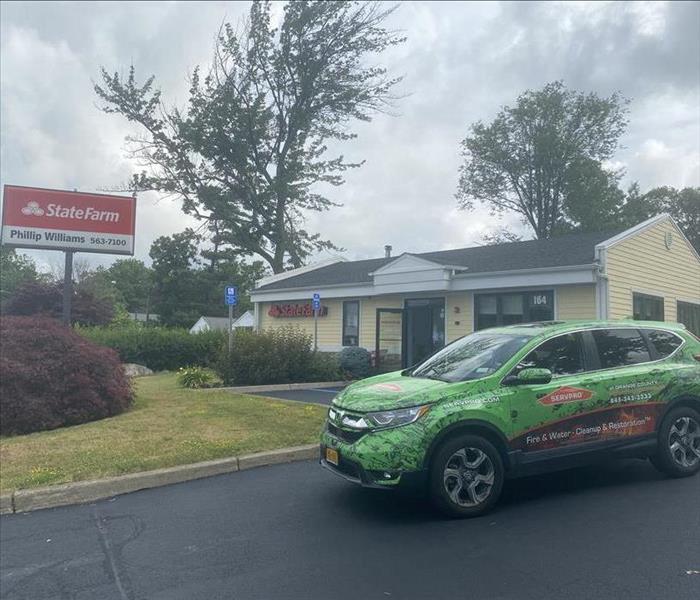 Even State Farm Insurance Agencies in Newburgh call SERVPRO for water damage cleanup and restoration
SERVPRO Can Swiftly Provide Commercial Properties with Water Cleanup Services
As Floods continue to storm New York state, many residents and business owners are worried that they could suffer next. Unfortunately, there are many ways that flooding can occur inside your property, and it is not all from storms. For example, a broken pipe can spew hundreds of gallons of water into your property at a rapid pace. Should you have trouble accessing your water shut-off, the volume of water could become alarming. Fortunately, here at SERVPRO, We're Faster To Any Size Disaster.
As an example, let's say that a burst pipe has left your gym in sudden need of professional Newburgh water extraction services. While burst pipes are not typical in the fall months, that does not mean they cannot happen due to irregular pressure build-ups or other issues. No matter how the problem occurs, promptly calling can positively affect costs, damage, and repair time.
Furthermore, here at SERVPRO, we're available 24/7, and we always have highly trained technicians ready to help you no matter what time you call. Some ways we can speed up our arrival time include:
Our signature green vans are prepacked with advanced equipment and products, ready to go as soon as you need our help.
We use GPS to ensure we take the fastest route to your home, and we do our best to avoid traffic jams.
We always have highly trained technicians ready to leave immediately to help.
Upon arriving at your fitness center, our first focus is to use our advanced technology to get the standing water removed from your property as soon as we can. Due to the volume of water in this scenario, our technicians could use truck-mounted wet/dry vacuums. These devices are designed to remove water as swiftly as possible and fill a tank attached to one of our trucks to dump it elsewhere. After the water is gone, we can test the moisture levels of your property and set up drying equipment as needed. Our goal is to secure your equipment from water damage and mitigate any harm to structural assemblies in the building.
If your property urgently needs water cleanup solutions, call us now. Contact SERVPRO of North Orange County and SERVPRO of South Orange County. (845) 342-3333. We can help you!