Using Containment to Reduce Mold Damage in Newburgh
9/21/2022 (Permalink)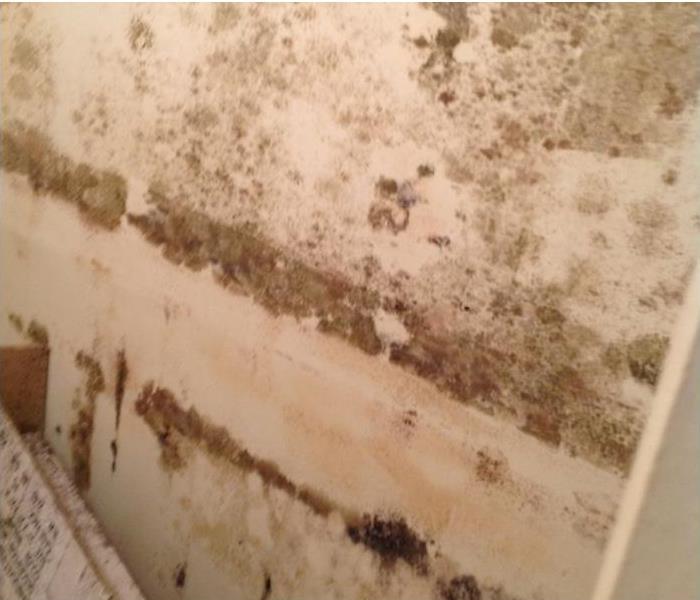 Our SERVPRO technicians can remediate mold damage with advanced equipment and IICRC-Certified training in Newburgh and the surrounding area.
SERVPRO Mold Remediation Teams Can Cleanup Infestation
A mold is a form of fungi that grows in humid environments and indoor spaces. Sometimes, this microbial organism may develop in the rooms or structure of your home. Getting rid of infestation usually requires the assistance of professional remediators that have the know-how and expertise to strike at the source of the issue.
SERVPRO has mold damage remediation technicians in Newburgh. We have decades of experience helping residents and local business owners overcome potential microbial growth issues in their properties. Microbes rely on spores to reproduce, found in almost all environments on earth, including your home. Spores are a relatively benign feature that only becomes a problem when combined with moisture which allows them to grow and reproduce. Correcting a microbial infestation relies on discovering the source of the problem, which is usually a moisture issue. Our technicians are well-versed in the problems that cause moisture issues in a home environment. These are commonly due to structural exposure, for example, faulty roofing, insufficient insulation that leads to condensation issues, or leaking pipes. Using our training, we can rectify the source of the problem to prevent further infestation.
Once the source of the problem is under control, our technicians can begin to reverse the damage. Depending on the scope of damages, the removal of infestation may involve chemical action, controlled demolition, or abrasive cleaning. A prime candidate for chemical action is when a microbial infestation visibly affects a surface, but the surface remains dry. A dry, moldy surface usually indicates that there was a one-time spillage or leak that allowed fungi to grow but has since dried. Technicians can apply a biocide or antimicrobial chemical directly onto the surface. After a few days, the chemical destroys the infestation, and any residual elements can be cleaned easily using detergents or other rinsing agents.
Practices for Removing Microbial Growth
Chemical agents that destroy microbes include biocides like anti-microbial sprays like sanitizer.
Controlled demolition involves removing an infested material such as drywall which is then replaced once an infestation is removed.
Abrasive action can involve corrosive chemical agents or abrasion tools such as sand and soda blasting machines. These remove the surface layers of the material itself along with the infestation.
Our IICRC MRS-Certified remediation technicians can help identify and destroy mold damaged infested materials in your home. By carefully establishing containment protocols, we can not only remove the existing infestation but decrease the likelihood of it spreading to unaffected areas. A containment protocol is a system of checks and balances that prevents spores from spreading during remediation or removal of moldy materials. Spores are microscopic, which makes them easy to inadvertently spread on items of clothing, airways, or air conditioning systems.
Setting up effective containment begins with the application of common-sense practices. Communicating areas of infestation and reducing foot traffic in those areas are an example of common sense containment practices. More advanced containment procedures can involve using physical barriers and sealing areas with non-porous sheeting. Furthermore, our technicians can take extra care to avoid spreading spores by removing hazmat suits when entering or exiting the affected spaces.
Containment and Removal of Microbial Infestation
When demolishing mold damaged materials, it is vital to pack debris into double-sealed bags for disposal at the appropriate waste disposal facility.
Negative air pressure machines can be used during demolition to capture airborne spores from the surrounding air.
Replacing older filters on venting ducts and fans or temporarily sealing them can prevent the spread of spores through air conditioning systems.
Remediation can help you get rid of the infestation for good. Contact SERVPRO of North Orange County and SERVPRO of South Orange County for mold damage remediation at (845) 342-3333.