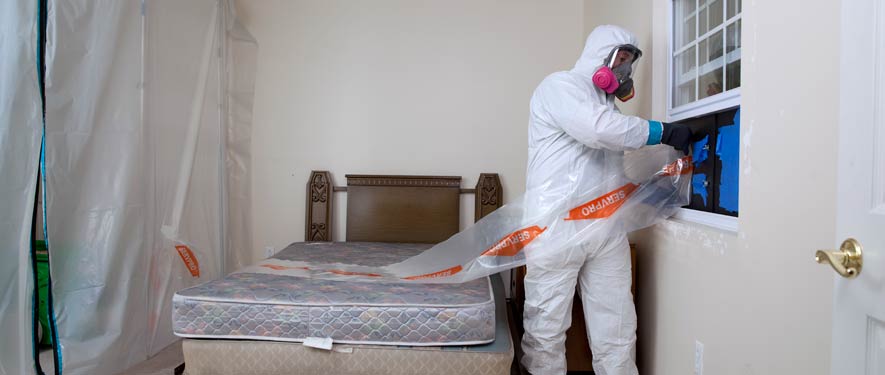 Biohazard Cleanup and Restoration
Do You Need Biohazard Cleaning?
Because biohazard cleaning can encompass so many individual tasks but carry potential health hazards or overwhelming circumstances, this recovery team is among the most heavily trained and prepared of our restoration company. From a sewage backup situation to cleaning up after a trauma, we have a wide variety of thorough cleaning services relating to:
Disinfecting companies
Hazmat companies
Biohazard cleaning company
Crime scene cleanup
Sewage cleanup
Rodent clean up services
Hoarder cleaners
Biohazard remediation
Trauma and Crime Scene Cleanup
Cleaning up after trauma, a crime scene, or a drug lab can require intricate and advanced cleaning techniques to restore the property to its original condition. Removing fingerprints, fluids, and organic matter can all require potent solvents and detergents when exposed materials and structural elements are worth saving. Controlled demolition can provide a safe, clean foundation for reconstruction when too much damage exists to the installed material.
Hoarder Cleaning Services
Hoarding often presents unsanitary conditions for those living in the house. Air quality issues from decaying matter, potential pest infestation, and the development of mold and fungal colonies are all direct threats. Our biohazard cleaning team removes and discards hoarded materials to begin thoroughly cleaning the property.
Sewage Cleanup and Disinfection
Sewage backup can happen quickly, depositing solids and contaminated liquids into lower-lying areas of your home through floor drains and other connected sources. Extraction is only part of the sewage cleanup process, including disinfectant cleaning and controlled demolition to remove exposed structural elements.
Please refer to our Biohazard Emergency Tips - Until Help Arrives Guide and follow these tips to protect yourself and your property.
Need Biohazard Cleanup Services?
Call Us Today – (845) 342-3333
The decontamination of a home or business due to trauma, sewage backups, chemical spills, hoarding or other biohazards can be both dangerous and emotional. Specialized training and experience is key when choosing a cleanup company to resolve these circumstances.
We provide cleanup and recovery services for many biohazard situations. These include the following:
Suicide/death accidents
Homicide cleanups
Blood cleanup
Accident cleanup
Hoarding scenes
Animal waste/remains
Chemical spills
Tear gas cleanup
Meth lab cleanup
Common Biohazard Scenarios
Sewage Backups
Sewage backups and dark water intrusions are more than nasty, smelly deposits – these damages also introduce harmful microorganisms into a structure. We remove the sewage, contaminants, and moisture, and help ensure the structure is properly cleaned, disinfected, and deodorized.
Bloodborne Pathogens
We remove and dispose of bodily fluids, tissue and other potentially pathogenic substances resulting from accident, trauma, crime or death. Trained SERVPRO Franchise Professionals clean, disinfect and deodorize the structure.
Illegal Drug Manufacturing Labs / Meth Labs
SERVPRO realizes many of the chemicals used in the production of illegal drugs such as "meth" are volatile and can leave harmful residues throughout a structure. We follow federal and state guidelines to properly clean all surfaces.
24 Hour Emergency Service
We are available 24 hours a day—our highly trained technicians are standing by. We have the qualified trained professionals who are ready to respond to these incidents. We will always treat your property and the people involved with the greatest empathy and respect in the face of trying circumstances.
We are proud to serve our local communities:
Newburgh
Middletown
New Windsor
Cornwall
Monroe
Port Jervis
Warwick
Walden
Goshen
Montgomery
Pine Bush