What is the Best Way to Handle Fire, Water, Flood, Mold or Storm Losses to Your North Orange County Home?
8/16/2020 (Permalink)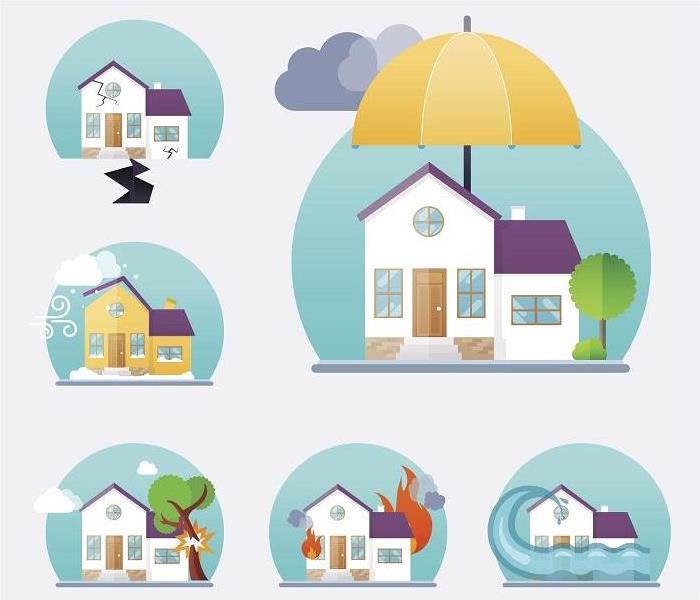 Chances are you home will experience an emergency restoration need. SERVPRO is eqipped and on call to handle all emergency restoration events.
SERVPRO is the Only Number You Need to Handle Your Home's Emergency Restoration Needs
As a team that has been in business for more than 30 years, we have seen the worst that nature and disasters can do to Newburgh homes and businesses. Because we have recognized the needs of our community over these past decades, we have grown and developed a roster of restoration technicians and contractors capable of addressing nearly every need that your property has after a fire, water, flood, mold, or storm losses. We even have dedicated professionals to address more complicated cleaning projects as well, such as biohazard recovery. As a full-service provider, we are a preferred vendor for insurance companies due to being single contractors completing nearly all of the necessary work to recover your home after a disaster.
Storm Damage Restoration
Between the harsh winter months and severe storm events that can occur during the spring and summer, homes and businesses are nearly always at risk for structural damage and flooding throughout Newburgh and its surrounding areas. With in-house contractors available to dispatch along with our restoration professionals, we can offer pre-mitigation emergency service to help, including:
Controlled demolition
Debris removal
Extraction
What Kinds of Flooding Can Damage Your Home?
Not all flooding situations are the same, so knowing how floodwater entered your Newburgh home can be vital to determining the best approach for restoring the damage. Often there are a few primary varieties of flooding common to the area, including flash flooding, natural rising floodwaters, and water penetration from structural breaches like roof vulnerabilities. Each of these situations involves a pressing need for repair and restoration practices like extraction and cleaning.
What Steps Can Our Team Take to Get Control?
Extraction and water removal are the heart of flood recovery, and this can involve multiple tools and technologies. Standing water in your Newburgh home or business can lead to unfavorable conditions like structural deterioration, microbial growth, or the spread of contaminants. Through equipment like submersible pumps and wet vacuums, we can remove standing surface water and prepare the home for effective drying with air movers, dehumidifiers, and other specialty drying tools.
Water Damage Restoration
Because water restoration throughout Newburgh and other areas of the county that we serve is such a common occurrence, having the majority of our technicians accredited with water restoration certifications ensures that no customer waits for confident and experienced professionals in their time of need. This experience and training go up through our administration and management so that overseeing leaders like our crew chiefs and project managers also have the same education to make informed decisions that best suits your property.
What is Mitigation for Water Losses?
Acting quickly in a water loss is vital to protecting most of your structural integrity and contents. Regardless of how a water loss incident occurred in your Newburgh home, the appropriate response to these emergencies ensures the mitigation steps can begin as soon as possible. These initial efforts reduce total loss in the property and ultimately save our customers time and money on the restoration work to come. Some of these mitigation steps include:
Extraction
Content Management
Controlled Demolition
How Can We Dry Out Water Damage?
Drying in your Newburgh home is one of the critical elements of restoration after a water emergency. Several tools and technologies get employed during this vital stage of recovery, including air movers, dehumidifiers, portable electric heaters, and our floor mat drying system.
Fire Damage Restoration
With fire losses in Newburgh homes being one of the standard callouts that our professionals must regularly address, we stay prepared to help through this troubling experience. Often this begins with a thorough assessment of the property conducted by our project manager, though several emergency services might need to occur before this. Structural breaches must get covered to prevent water or animal intrusion, debris can get shoveled and vacuumed from the flooring, and air quality can begin to get regulated with tools like air scrubbers.
What Initial Steps Can Protect a Fire-Damaged Property?
The initial actions that are professionals take when we arrive at a fire damaged Newburgh property are critical to reducing losses and costs for our customers. Mitigation is a universal approach for every emergency that our technicians help to restore. With residential structure fires and even more massive commercial blazes, some of these mitigation actions can improve efficiency:
Debris Removal
Surface Wiping
Temporary Construction Solutions
Are Reconstruction and Repair Included?
After a structure fire, many Newburgh homes and businesses require some degree of repair or reconstruction. With a team of in-house contractors able to respond to the restoration technicians, we can get a better understanding of the structural repairs necessary to make fire losses "Like it never even happened."
Commercial Services
After any loss incident impacts your Newburgh business, you can have many obstacles in opening your doors again. For this reason, we have encouraged many Newburgh businesses to work with us to develop their profile in a program called the SERVPRO Emergency READY Profile Plan. This information, shared conveniently, helps responding technicians know about entry points, utility shutoffs, and other vital information to restore the property efficiently.
The Benefits of Large Loss Recovery Teams
One of the advantages of choosing SERVPRO to help restore the damage to your Newburgh commercial property is our involvement as a significant loss recovery team. Our connection to a vast network of franchises and sister organizations ensures that we have a nearly endless pool of:
Personnel
Equipment
Products
Experience
Resources
How Can Your Business Stay Clean and Safe?
Safe and sanitary workspaces are vital for both your employees and the customers you serve, regardless of your business nature. Because of the pressing need for thorough and intricate cleaning solutions in commercial spaces, we have developed a defensive cleaning program we call Certified: SERVPRO Cleaned. This program features the most comprehensive cleaning solutions for Newburgh businesses, featuring EPA approved disinfectants, antibacterial solutions, and deodorizing compounds.
Disasters do not have to keep you down. Give our SERVPRO of North Orange County team a call today at (845) 342-3333.