When Is The Right Time To Take Action After A Flooding Incident?
10/22/2020 (Permalink)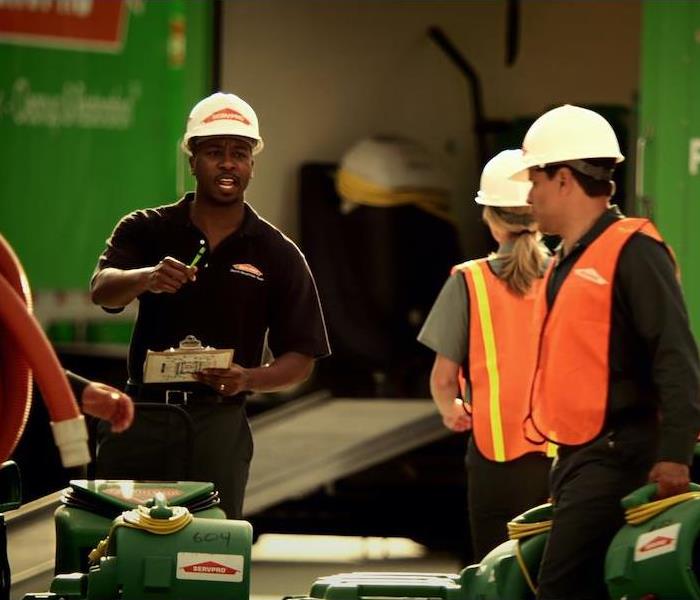 We understand the need for rapid response and restoration to minimize the loss of your business property. Call us right away we are available 24/7.
SERVPRO Evaluates the Processes Needed to Restore Flood Damage in Newburgh Restaurants Determining What to Prioritize.
Responding to a flooding incident in a business establishment requires a wide range of actions. A faster response is necessary because it helps resolve a water incident quickly or reduces the level of damages. Since the measures are taken to resolve separate issues, the right timing of each action is essential for maximum efficiency. SERVPRO helps Newburgh restaurant owners schedule flood mitigation exercises correctly by prioritizing crucial processes.
What are the main actions taken in response to flood damage loss in Newburgh properties?
Moving items
Securing the structure to limit damages
Cleaning soiled areas and items
Disinfection or deodorization
Once your restaurant fills up with filthy floodwaters, it is hard to imagine that other issues can develop, causing more damages. However, it happens and can worsen the situation you already face. Securing the structure is one way to prevent unnecessary secondary water damages. You can secure the structure to seal openings, thus preventing intrusion by small animals or vandals. Securing the structure also helps prevent weather elements such as rain from wreaking havoc inside your premises.
Securing the structure is one of the actions you should take as soon as possible after realizing your restaurant is flooded. Our SERVPRO staff is well versed with the steps necessary in securing flood-damaged properties, including:
Installing roof tarps
Boarding up openings
Erecting isolation barriers inside the property
How difficult is it to move contents?
You might need to move contents for various reasons, including the need to stop contact with floodwaters or create room for other restoration processes. Such movement can be to another location or within the same premises. Completing a move out before starting cleaning processes adds more convenience. The difficulty involved in a move out differs, depending on the kind of contents being moved and the conditions the flooding incident creates.
Our SERVPRO crews address any moving challenges that might complicate the process when you do it independently. For instance, we pre-clean items before moving them to ensure they do not contaminate or soil the new area once relocated. We avail accessories such as air sleds or hand trucks to move heavy appliances, conveniently, eliminating chances of accidental damage. In case it is not possible to store the contents within the premises, we also make arrangements for relocation to an off-site warehouse eliminating your worries about the safety of your items while awaiting the restoration of your facility to its preloss state.
What does cleanup involve after a restaurant flooding incident?
Cleaning is a multi-step process which varies on a case by case basis. Some of the things you might need to accomplish during a cleaning process include:
Removing solid wastes such as mud or silt
Extraction of soiled water
Removal of deteriorated materials on the walls and floors
Washing of soiled surfaces to restore sanitary conditions
The ability to complete such processes speedily depends on the resources you can access. For instance, removing water filled with solids such as silt is not possible using the regular water extractors. You might therefore opt to downgrade to a bucket or other manual process to scoop out the solid-filled water.
Our SERVPRO technicians overcome such bottlenecks easily using specialized equipment such as self-priming trash pumps that extract water containing solid wastes. The capability of such pumps varies, with some only handling slurry while others handlings solids as big as 3 inches. For silt and muddy water, the slurry pump is sufficient, but we evaluate the situation to determine whether other more capable pumps are necessary. We also have rotating brushes and other powered tools that quicken agitation of soiled surfaces, thus expediting the cleaning processes.
At what stage should disinfection and deodorization happen in a flooded restaurant?
Processes such as disinfection and deodorization help finish the cleaning process by taking care of invisible substances introduced by the floodwaters into the premises. For a business handling food, decontamination is crucial to guarantee sanitary conditions. However, waiting until the last stages of the restoration process might not be the ideal approach. Our technicians incorporate both deodorization and disinfection in every aspect of the restoration. For instance, we spray EPA registered disinfectants directly into the flooded sections before starting water extraction and cleaning. We also use cleaning products with deodorizing properties or mix deodorizers with the cleaning solutions to control odors while cleaning various sections of your restaurant.
When properly planned and taken promptly, mitigation processes can help limit the damages associated with such incidents. Call SERVPRO of North Orange County and SERVPRO of South Orange County at (845) 342-3333 to help. We're Faster To Any Size Disaster.