SERVPRO Helps Protect Historic Newburgh Buildings From Water Damage
11/22/2020 (Permalink)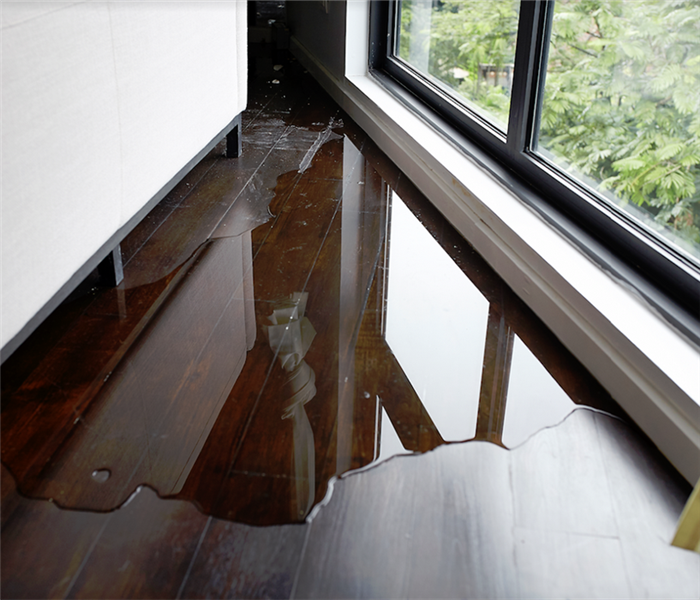 When water damage affects your property, it's time to contact SERVPRO for water cleanup efforts. Call right away for best results.
Newburgh Is The Home Of Historic Preservation and There Are Many Beautiful Buildings To Explore
Newburgh occupies an ideal location in Orange County, being close enough to New York to enjoy all the excitement of the Big Apple while still being big enough to have plenty of amenities of its own. Newburgh is on the Hudson River and is conveniently located next to Stewart National Airport.
Henry Hudson, for whom the river is named, first came to the Newburgh area in 1609. However, it would be almost 80 years before settlers purchased the land, and it was 1709 before they created the first settlement.
Newburgh received its official city charter in 1865 and entered a booming age that saw it gain a railroad, become a passenger ferry hub, and swiftly grow prosperous. Today Newburgh stands firmly on its enterprising past while offering all the modern amenities you would expect from a city of this time.
The Home Of Historic Preservation
Historic preservation means preserving and protecting buildings for future generations to enjoy and learn about. Historic preservation got started right here in Newburgh! In 1961, Washington's Headquarters State Historic Site became the first building to be preserved by a state for historical reasons.
The house, also known as Hasbrouck House, is the oldest building in Newburgh:
The first house on the site was a fieldstone farmhouse, constructed around 1725.
Jonathan Hasbrouck and his wife completed work on the house in 1770.
When the army arrived in 1782, they made several changes, including a fireplace and a temporary kitchen, and enlarging and improving some of the outbuildings.
The State of New York took ownership of Hasbrouck House in 1850 when it became the first site in the United States to be publicly operated as a historic home.
Visitors today can take a step back in time, as the house is now a museum that has been carefully reconstructed to reflect what it was like during the Revolutionary War.
Hasbrouck is not the only well-preserved historical treasure in Newburgh! People passionate about conservation come from far and wide to admire the historical architecture and preserved buildings and sites that Newburgh is famous for. History lovers will want to check out:
David Crawford House is the current home of the Historical Society of Newburgh Bay and the Highlands. When the house was put up for auction in the 1950s, residents were afraid it would be torn down. Thankfully the Society purchased it, and as well as providing a headquarters, it also serves as a museum.
Old Town Cemetery is the oldest cemetery in the city and features gravestones from as early as 1759 (it was established in 1713, but many markers are no longer legible.)
Downing Park is Newburgh's oldest and biggest public park. Calvert Vaux and Frederick Law Olmstead designed the park in the late nineteenth century as a gift to the city in return for naming it after a friend of theirs who died in a steamboat accident. The park features a pond, a fountain, an amphitheater for outdoor performances, and a popular daylily garden where visitors can observe herons and other birds.
As well as stopping off at designated sites, we highly recommend simply taking a walk! Newburgh's historic districts are packed with examples of many architectural styles, including Gothic, Baronial, Revival, and Neoclassical.
Newburgh Is Also The Home Of Television and Shopping
As well as starting the trend of preserving beautiful buildings, Newburgh also had a hand in television's genesis. The RCA Corporation chose Newburgh as a test site for television sets in 1939. Newburgh was within range of their W2XBS station (now known as WNBC), so they sold 600 deeply discounted television sets to residents. The experiment was so successful that RCA was encouraged to continue its work and broadcast it into more homes.
The successful early broadcasts also mean that Newburgh residents were set up to receive television broadcasts during the Second World War when most homes across the nation could not.
Newburgh also has a history as a major shopping center for the area. Older residents still recall the array of shops that used to line Colden Street, Water Street, and Broadway with glee. Newburgh was home to one of the first malls in the country to feature a wide range of significantly different shops.
Visitors and residents today will not be disappointed in the array of shops in the city. From modern malls to farm shops to tiny independent boutiques, Newburgh has it all. Visitors who want something a bit out of the ordinary will love:
Newburgh Vintage Emporium, where you will find everything from mid-century furniture to Victorian jewels.
Hudson Beach Glass, in nearby Beacon, offers a staggering selection of beautiful hand-blown glass pieces, and you can even watch the glass-blowing process in action.
Overlook Farm Market, where you can enjoy the best local produce, including seasonal vegetables, poultry, plants, and fresh-cooked donuts.
The Elizabeth Collection, where you will find unique hand-tooled leather goods, along with essential oils and other gift items.
Morphicism, also in Beacon, features one-of-a-kind art pieces for the home. Stop in to admire the art and chat with the artist, who is always happy to explain his process.
Newburgh Residents Are Familiar With Snow and Storms
Newburgh's climate falls in the transition zone between humid continental and humid subtropical. Winters tend to be long and chilly, with an average of 36.8 inches of snowfall.
The climate means that Newburgh is no stranger to storms, wet weather, heavy snow, and sudden rainfall. All of these leave Newburgh homes in danger of water damage, and with so many historic buildings around, the city needs a water cleanup team it can trust.
SERVPRO Understands The Water Cleanup Needs Of The Local Community
Because SERVPRO is a franchise company, the North and South Orange County branches are locally owned and operated. That means our staff live, work, and enjoy leisure time in and around Newburgh, and we understand the local community.
We know that Newburgh is a unique city full of landmarks. That is why we do our best to preserve any building, old or new, that has fallen foul of water damage. We know that fast action is key to cleaning up water damage before it gets out of hand – We Are Faster To Any Size Disaster.
Residents can rely on us to take care of every aspect of water cleanup, from initial assessment to drying and disinfecting. We can also liaise with insurers on the home owner's behalf and provide pictures and professional estimates to help you make an insurance claim.
We monitor every stage of water cleanup and drying to ensure every home is completely dry and that all damage is repaired. We also take care of deodorization to leave the house smelling fresh.
If you need a water cleanup company you can trust, call SERVPRO of North Orange County and SERVPRO of South Orange County at (845) 342-3333.