SERVPRO Assists Newburgh Residents with Home Restoration After a Fire
12/16/2020 (Permalink)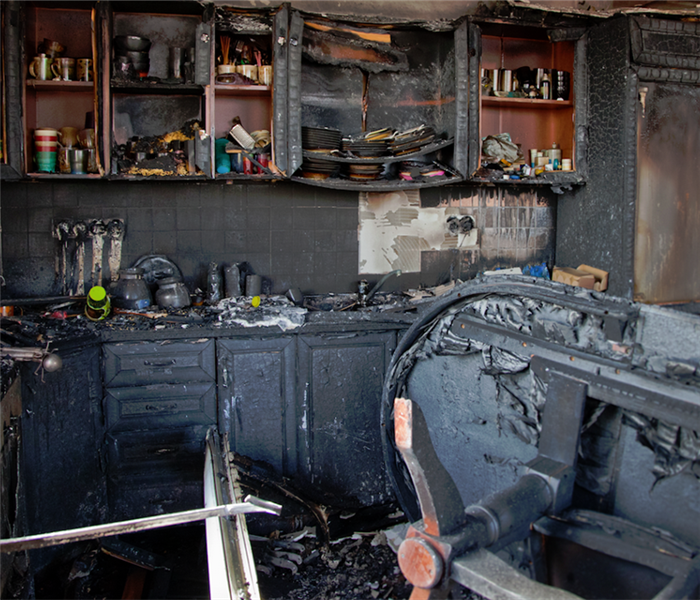 Regardless of the room that it affects, fire damage can overwhelm your home. Contact our certified team immediately for fire damage remediation servi
Newburgh is a Historically Significant City with Ties to The American Revolution
Along the Hudson River, Newburgh, NY, offers both historical and architectural landmarks and industrial contributions. Being only 60 miles from New York City, Newburgh is a hub in the Downstate area, with the Stewart International Airport at its center, making for easy travel in and out of the area. While Newburgh is close enough to commute to the Metropolitan New York area, it is also just 90 miles south of Albany, nestled in the Hudson Valley, making it a central location between New York City and the capital.
Newburgh developed on the Hudson and is an industrial center beginning in the 19th century. The proximity to New York City gave many opportunities for industrial ventures. Mills sprung up along the Quassaick, Gidneytown, and Tent Stoney Meadow Creeks. Wool, black powder for gunpowder, and grist for minting coins all came from Newburgh mills. Even today, large power generating stations function along the Hudson to provide electricity to the entire Downstate area.
Newburgh and the American Revolution
Newburgh is one of the oldest cities in New York, officially established in 1763 by a law passed by the General Assembly of New York State. The town legally-established itself even before New York State joined the union as the eleventh state in 1776. Newburgh holds historical significance for the country for more than one reason. It is often praised as the birthplace of historic preservation in the United States, but it also has historical relevance to the American Revolution. Events occurring in Newburgh may have changed our nation's direction if not for General George Washington's influence.
Newburgh Conspiracy 1783
During the American Revolution, the Continental Army had its headquarters in Newburgh. At the end of the American Revolution, some members of the Continental Army were dissatisfied with their working conditions. More importantly, they were not happy with their lack of consistent and reliable pay. Congress previously committed to giving half-pay to soldiers after retirement with funds from taxation. However, the states were not paying owed taxes consistently, meaning there were no funds for the promised pensions.
The Congress of the Confederation and Continental Army Were at Odds with Each Other
Anonymous members of the Continental Army wrote an ultimatum demanding pay or they would revolt.
Soldiers were dissatisfied due to this lack of pay, especially since it was promised to them.
Pensions were not coming to fruition, and some soldiers were not paid, leaving them primed to revolt, especially after fighting for years.
General Washington Stopped the Revolt
Washington used his superior public speaking skills and personal conviction to defuse the situation by asking his officers to stay loyal to Congress.
He gave a personal, persuasive plea, at one point indicating that fighting for his country had aged him beyond his years, making it, so he had trouble seeing.
Washington instilled great loyalty with his officers through genuine conviction and personal connections, convincing them to continue.
By convincing officers to remain on course, General Washington may have even saved the American Revolution's outcome.
Newburgh Has a History of Significant Fires
Historic preservation and industry at the heart of Newburgh increase the probability of fire in both businesses and homes. Historically speaking, Newburgh suffered more than one devastating fire. In the late 1800s, fires destroyed a tannery and an ironworks factory, causing extensive damage to the city. Several other industry-caused fires occurred in both shipyards and train and boxcars.
Present-day Newburgh residents should be aware of fire risks, especially during winter months when wood stoves are more prominent, particularly in older homes. Many Newburgh homes, especially in the East End Historic District, date back to the early 1800s.
Homes in the East End Historic District Range in Style
Federal Style inspired by Ancient Rome
Greek Revival Style row houses
Gothic Revival Style
Early 20th Century Colonial and Tudor Revivals
The wide range of architectural design in homes makes the East End unique. Historical preservation is highly valued in Newburgh, with the philosophy of repairing with like materials rather than replacing in the interest of historic integrity.
In addition to preserving homes with historical significance in the East End only for preservation's sake, New York State offers a substantial tax credit for historically appropriate projects to rehabilitate some residential properties. There are requirements set out by the New York State Office of Parks, Recreation and Historic Preservation and the local Architectural Review Commission (The ARC). There may also be Federal Tax incentives for restoration projects, depending on your particular situation.
SERVPRO Understands the Importance of Restoring Homes After a Fire
Newburgh is a city full of history and diverse architectural designs. Our SERVPRO team is local to the Newburgh area and understands the town's historical significance and the potential structural implications of even the smallest fire.
Our trained fire restoration team meets with the property owner to discuss restoration goals, together creating a plan of action to ensure comprehensive repairs to the home. It is essential to understand that fire restoration often requires a multi-faceted approach depending on the severity of damage and type of fire.
Fire damage May Include:
Structural damage to the home, which may also include building materials.
Extensive smoke damage with odor and residue throughout the home.
Damaged or destroyed personal belongings and contents.
Our professionals may choose to remove items from the home for cleaning and repair. If this is necessary, technicians inventory your valued belongings throughout the entire process keeping them safe. While one team works to clean your items in an offsite location, another team may work on the structure of your home.
Our locally owned and operated franchise is very familiar with Orange County and the surrounding area and knows how important it is to repair with historical integrity in mind. We make it, "Like it never even happened."
If you need help restoring your home and its contents after a fire, contact SERVPRO of North Orange County and SERVPRO of South Orange County anytime at (845) 342-3333.