What is the Mold Remediation Process for Newburgh Companies?
8/6/2021 (Permalink)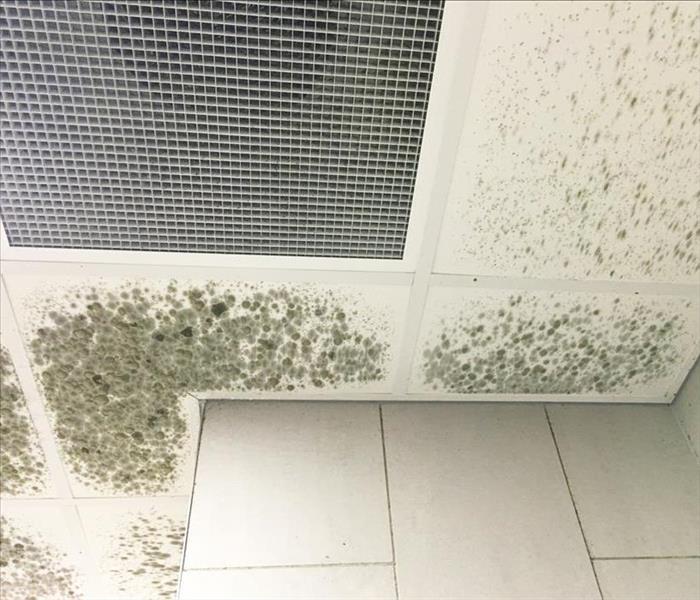 Mold remediation in your commercial building is no easy task. SERVPRO has the manpower and experience for every diasater. Call now!
SERVPRO Provides Mold Damage Services for Newburg Businesses That Is Detailed and Thorough
Mold can develop in commercial facilities from leaky pipes, high humidity, or water spills. When it does take hold, mold can shut your business down until it gets removed in some instances. You need professional mold removal services to thoroughly clean and sanitize the building and content.
A Precise Mold Remediation Process
When mold damage is present in Newburgh, you can count on SERVPRO to provide relief. While other steps may be required, there are significant steps required in just about every situation where mold and mildew are present. These steps include:
• Establishing Containment – It is important to contain the mold contamination to prevent it from spreading. Airflow must be monitored to prevent spores from traveling. Plastic sheeting gets used as a barrier. Negative air pressure is established in the area using air movers or air scrubbers.
• Removing Contamination – We base the process for this on the material. Nonporous material can usually get cleaned. We generally have to discard porous material with visible mold growth. Semiporous material such as wood or concrete can often be cleaned with abrasive methods.
• Cleaning Dust & Settled Spores – HEPA vacuuming and damp wiping get used, even when the material is porous.
• Drying the Material – Thoroughly drying the building and contents is vital to prevent further mold growth.
• Proper Disposal – Damaged materials must be disposed of properly. We take care of the disposal.
Contact the mold specialists at SERVPRO of North Orange County and SERVPRO of South Orange County. You can reach us at (845) 342-3333. SERVPRO can get your business up and running in no time.