What Can I Do About the Mold Damage in My Middletown Basement?
9/29/2021 (Permalink)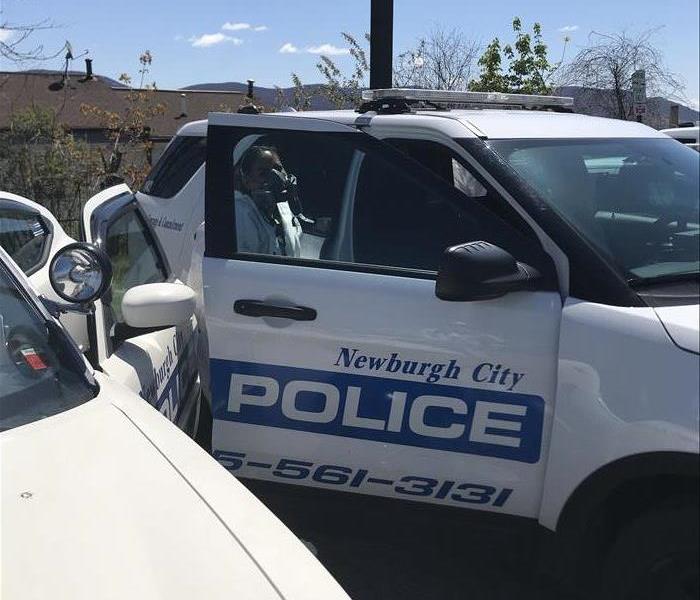 Guess what company does the mold remediation for Middletown and Newburg squad cars? Yes, you are correct---SERVPRO
SERVPRO Can Quickly Send Mold Damage Experts to Your Middletown Home!
Microbial growth can occur in your home when omnipresent mold spores are exposed to excess moisture. Unfortunately, it is that easy. Excess humidity, water damage, or flooding could activate dormant spores, and a colony could begin to form within 72 hours. However, finding mold is no reason to panic. Help is never far!
Should you discover microbial growth in your home, calling for Middletown mold damage remediation experts is easy when you call SERVPRO. Our expert technicians are always ready to go, no matter when you discover mold in your home. Our techs are always equipped with advanced technology, specifically designed to combat the mildew in your home. Some devices we can use to remediate active spores include:
Air scrubbers with HEPA filters
Antifungal cleaning products
Vacuums with HEPA filters
As an example, let us say the mold damage in your basement happened due to a water leak. Insulation between walls has become impacted, and mold has begun to grow. You might think our process starts with removing the drywall, but that is the second step. Before disturbing the active spores, we must set up a containment barrier made of plastic sheeting. Doing so prevents the spread of active spores to other areas of your home.
After removing the affected drywall and insulation, which we can bag and dispose of, our next task is to remove as much of the colony as possible. Afterward, we can apply antifungal cleaning agents and protective sprays to help lessen the chances of regrowth in the future. Finally, should we need to use drying equipment, we can do so to return the moisture levels in your home to an appropriate level.
If you find mold damage on your property, don't wait. Call SERVPRO of North Orange County and SERVPRO of South Orange County by phoning (845) 342-3333. We are always ready to help!