What Is the Appropriate Approach to Combat Fire Damage in Newburgh Properties?
10/29/2021 (Permalink)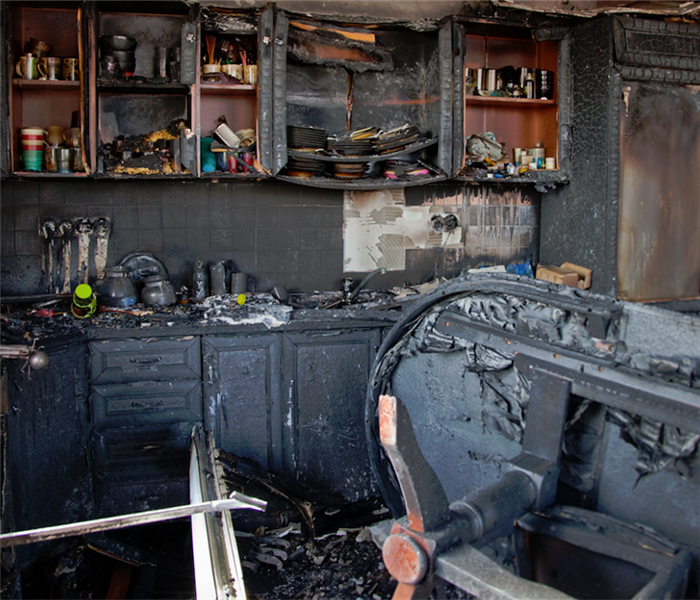 Fire damage residues will remain long after a fire. Call our certified SERVPRO team to assess and formulate a fire damage remediation plan for you.
SERVPRO Develops a Response Plan that Addresses All Effects of a Fire Simultaneously
Fire is both destructive and disruptive. After an incident at your Newburgh property, you need to address all damages to restore normalcy and do it cost-effectively. You need an appropriate restoration approach to achieve both goals.
Before you start resolving the problems caused by fire damage at your Newburgh property, you need to understand the loss clearly. That way, you can develop a proper response plan. SERVPRO helps by inspecting the destroyed sections of your property to establish issues like residue types left by smoke and the extent of heat and flame damage.
An appropriate response to fire damage should:
Remove all residues
Restore any salvageable materials
Refinish contents and structural materials
Fire residues cause many problems, including ruining the visual appeal of surfaces and leaving pungent smells. Thorough removal of such residues is essential to restore preloss conditions. Our SERVPRO crews can facilitate that since we use several cleaning methods, including vacuuming, pressure washing, and wiping surfaces with chemical sponges.
Damage from the fire can destroy materials partially or completely. Partially damaged materials can be salvaged through skillful and timely intervention. Some typical salvageable materials include solid wooden furniture and structural materials charred by heat or flames. Our SERVPRO IICRC-certified technicians check the charring depth before deciding whether items are salvageable. Then we can use a method such as sanding or blast cleaning to remove the residues.
Refinishing materials also help eliminate traces of fire damage and involves:
Special cleaning to remove yellowing
Repainting materials
Reupholstering
SERVPRO of North Orange County and SERVPRO of South Orange County crafts unique responses to fire loss, eliminating all traces of damage, "Like it never even happened." Call us at (845) 342-3333.