What to do when your commercial business has a fire?
10/16/2017 (Permalink)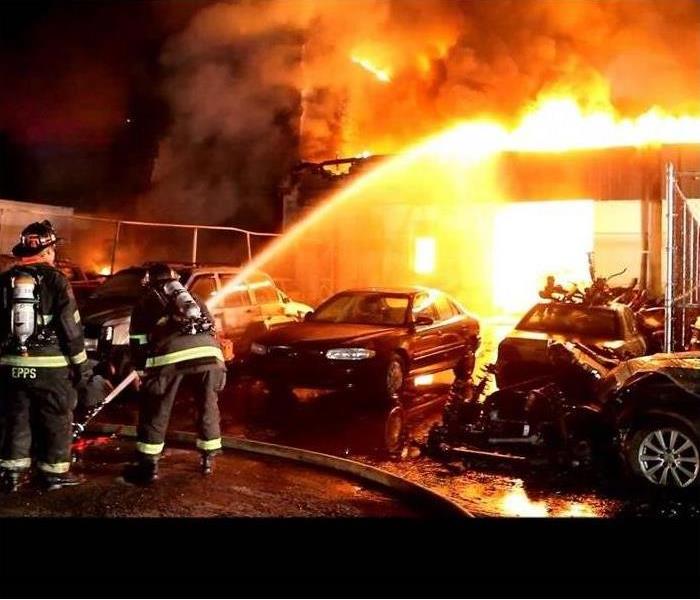 Call SERVPRO of North Orange County to deal with all of your fire damage needs on any commercial property.
Call SERVPRO for Commercial Fire Damage Restoration and Repair Service
Commercial fire damage repair may not be something you think you will ever need for your business, but the unfortunate reality is some businesses will experience a fire damaging event. Fires can be caused by an electrical shortage from overloading an extension cord to a lightning strike. Especially common are cooking accidents in restaurants. As soon as the flames are extinguished by firefighters, you may begin to worry what steps are required to resume business as usual. The best advice is to be prepared for this possible event and have a plan.
The Damage Caused by a Fire
When you experience commercial fire damage to your Chester business, you may reflect on the mess left behind in the charred ruins of the property. However, the damage you need to contend with will go far beyond the ashes. To repair the property entirely after experiencing a damaging fire, you will need to seek the help of a professional team like SERVPRO. Water may have to be extracted after the firefighters' efforts. The smoke damage may cause more of a problem that the burnt materials from the fire. While a fire may be contained in one area of the building, smoke can fill most or all of the areas, and it can cause significant damage and odors. Our trained Fire & Smoke Damage Restoration Technicians (FSRT) can resolve these issues. When smoke and water damage are dealt with appropriately, the structure will not show any aftereffects. "Like it never even happened."
A fire loss within your enterprise, whether a retail store, rental apartment building, professional office, or a warehouse, costs you customer goodwill and loss of profitability when business cannot be conducted. We can generate a corporate program called the Contents Claim Inventory Service (CCIS.) This report will categorize all affected materials, furniture and equipment, stock, electronics, and documents. We suggest what is salvageable, non-salvageable, or questionable. The final decision rests with you and your insurance company as to how we proceed. SERVPRO is a preferred commercial fire damage restoration company to more than 300 insurance companies, federal and municipal entities, and property management companies. We willingly coordinate efforts with your insurance adjuster to efficiently and economically restore your business in the best manner possible.
When to Make the Call
After you have dealt with commercial fire damage, you may ask yourself when do you need to make the call to a professional for assistance. The time to contact SERVPRO of North Orange County is as soon as the fire is out. Our business is to get you back in business. Rely on us, 24/7 for an immediate response, by calling (845) 342-3333.